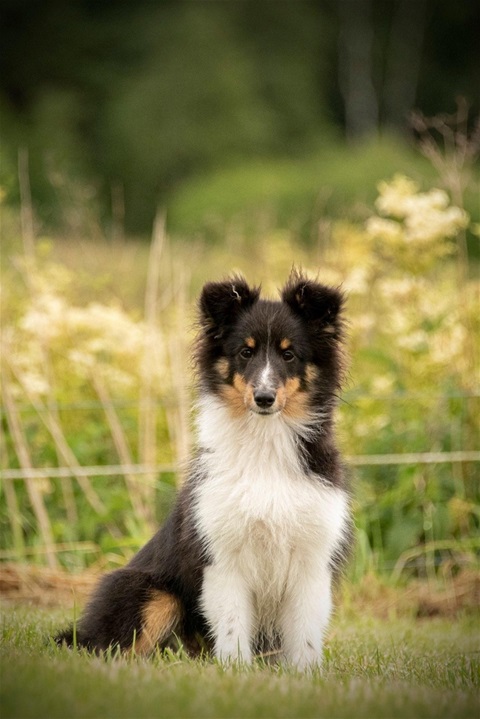 "YILLA"
(Nightrunner´s Ruby. SE17947/2020).
HDB EDO CEA, MDR1, vWD3, CNGA1, DM all FREE. BPH tested
Yilla is super cool and VERY independent...it will take a lot of persuasive skills to have a success in our training moving forward. ...a real challenge to come!
Yilla competes in Class 1 (Lowest level) agility
Pedigree - see Tess x Zoomi litter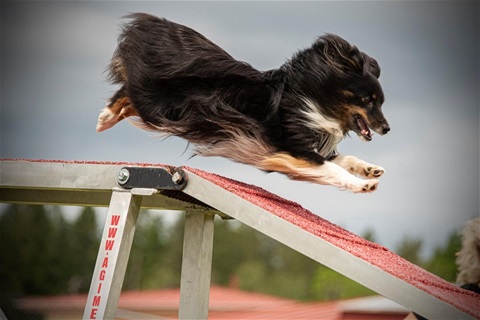 "YOYO"
(Nightrunner's Future Instinct. SE33832/2018)
SE AGCH SE AG(hopp)CH
Yoyo is a super energetic agility dog
Never a dull moment when Yoyo is around. She loves to find things to pick up in our home or when we are out walking that she can bring to me for a treat in return. And she can always find fun things to do on her own as well...like chasing birds :-) and other things that moves..
Yoyo is a very fast dog and I have a real challenge to handle her in the best way.
As a 3 year old she was qualified to the Nationals (despite to Covid pauses)
Pedigree - see Meja x Ice litter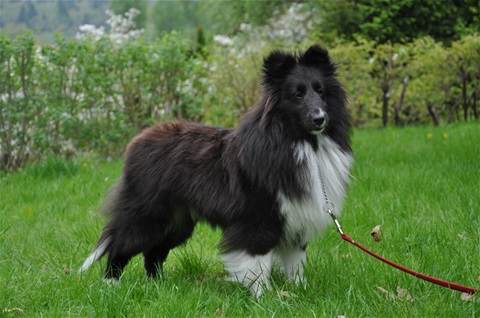 "Poppy"
Poppy is a true family dog - she has never put a paw in a competition field. she is just to wild and crazy!
She is the mother of 4 litters and a grandmother of a few more....

Blue Heavens Precious Poppy

Born: 6th May 2011.
37 cm (14.5''), CEA +/+, MDR1 +/+ Eyes clear, vWD normal (on father side), full dentition, scissor bite, "Excellent" in show
Poppy is a very special girl - she loves to stand and jump on 2 legs, something that her offspring has inherited! She has a lot of energy, but I have not yet figured out how to channel it in the right way to be able to compete in agility or rally etc...
I think she knows when the clock is 6 in the morning and evenings since that is when she normally is served food and when she is NOT, she barks and barks and barks…impatiently!
She has a VERY good bone structure and a beautiful head!
Poppy is mother of 4 litters, in total 19 puppies.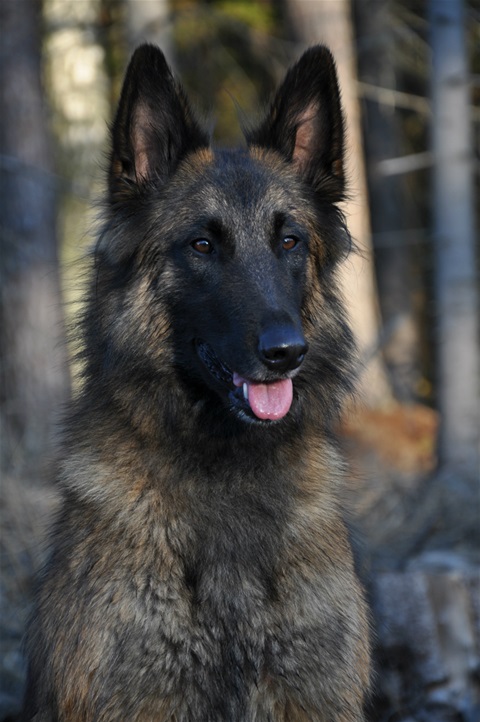 "Yava"
SE RallyCh SE UCH SE VCH RLD N&A&M LP2 Nightrunner's Beauty
(SE SE13035/2010), HD/ED B/UA GK MH, Eyes clear
Hkl tracking, qual. for obedience class 3, Jump class 2, Agility class 3, Game Tracking Champion, Rally-O Champion, Show Champion
Placed #6 in Rally Obedience SM (Swedish Championship) 2015 and #10 2016, competed 2017 as well ( in heat) and 2019.
Winner of the District's Rally obedience 2015 and 2016
Best Belgian in Sweden in Rallye-O Advanced level 2014
Best Belgian in Sweden in Rallye-O Master 2015, 2016
Yava has had 3 litters
Yava is the happiest dog on earth - her tail is ALWAYS wagging!
Yava is blessed wither her own guardian angel. She has been very close to crossing the rainbow bridge twice. First time she ran away from a situation and disappeared for 32 hours in the middle of the winter (colder than -5 Celsius). Finally she was discovered by an older man and his grandson after one of my best dog friends (Ulrica Persson) had her dog Urax barking for hours in the area trying to get Yava's attention (he got the rescuer's..). She was stuck on a rock plateau and late evening the fire brigade needed to work for 1.5 hours to get her down...
Second time she almost bled to death due to a clean cut, which tore her tendons and all blood vessels, caused by a sharp object (not natural) in the forest (we never found it). The artery was oozing and I needed to wrap my sweater plus the shelties' leads hard around it to make it stop. I got help from Helena and Felicia Fagerström to carry her for almost a kilometer in the forest to our car. At the animal hospital they told me that she had not survived if I had not put the pressure over the cut as I did (good scout training…). She underwent surgery and was put in a cast for 6 weeks. The surgery was not 100% successful and so it needed to be redone and another 4 weeks in a cast… Long rehabilitation followed and she is now moving at ease but probably no more agility competitions...
For rehab purposes we switched to rally obedience and that was a great success. In less than 6 months effective training /competition she qualified for the Swedish Championship.
SE13035/2010

T




LPII RLD A RLD M SE RALLYCH SE UCH SE VCH


Nightrunner's Beauty
S33121/2005

T




KORAD SE BCH SE UCH


Kogaråsen's Pesto
S15065/95

T




KORAD LPI SE BCH SE LCH SE UCH TJH


Kogaråsen's Faxe
S62400/86

T




KORAD SE UCH


Occra Brambax
S57671/92

T




KORAD LPI LPII SE UCH TJH


Västra Solsidan's Axana
S00009/2001

T




KORAD


Newstory Jilla
S68504/91

M




KORAD SE UCH TJH


Sabrefield Over The Sea
S18746/96

T




KORAD LPI SE UCH TJH


Newstory Drama
S57548/2004

T




KORAD LPI RLD N&F&A&M SE UCH


Bazzakulls Lime Passion
S53511/2001

T




SE UCH SE V-04


Hexen House Lughor
LOSH777757


IPOIII LU CH


Urka Van De Hoge Laer
S45404/98

T




KORAD LPII NORD UCH TJH


Hexen House Erah
S50301/99

T




KORAD


Bazzakulls Tequila-Old Fashioned
S60442/94

T




KORAD


Fon De Clair Tarzan
S11136/96

T


Bazzakulls Tequila