Yipee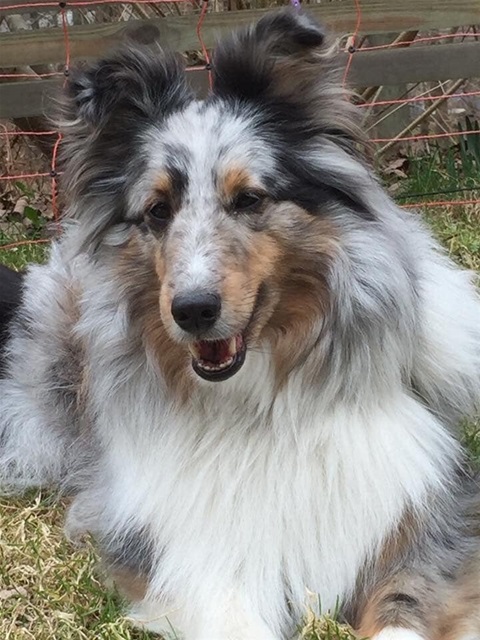 August 2012 - August 2019
AGD1 RLD F RLD N Homespun Karefree True Religion
Not yet 7 years old, my precious blue girl passed away due to lymphoma. She was a fighter for 2 years, but in the end the malign disease took her away from us.
I am forever grateful to Julie Iverson who trusted me as a buyer, coming from Sweden and with no previous connections to the US sheltie community.
Yipee was by far the most intelligent dog I have trained - her speed in understanding what to do was simply amazing. She ran agility with me in Level 2, mostly for fun since she was not the fastest of dogs, but very trustworthy.
She was our house "police" - there wasn't a worm in the yard that could move without her giving us a notice :-)
Heaven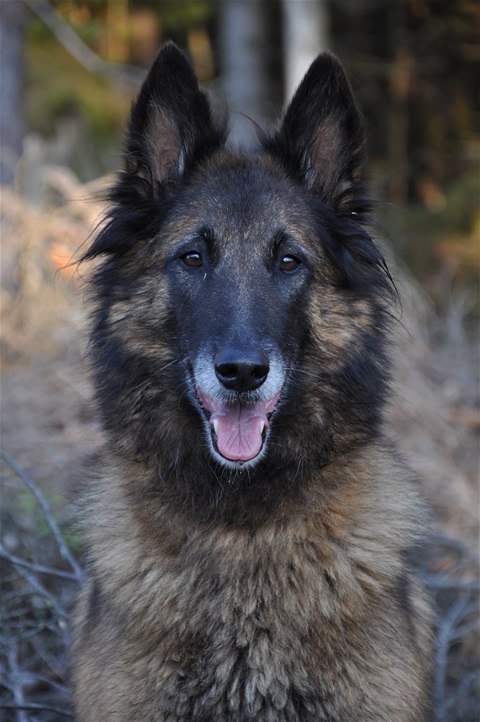 August 2004 - August 2018
SeUCH Korad LP1 RLDN RLDF RLDA RLDM
More Merits: hkl tracking, Cacib, BIR, agility and jumping qualifications.She became the local dog club Winner in rally-O, 2014
Heaven was a red Winnie (below) put to sleep at 14 years of age.
Heaven kom till oss som 3-åring och jag hade då lovat Ann-Margret på kennel Bazzakull att jag absolut INTE skulle tävla med henne (eftersom jag ju hade slutat med både uppfödning och hundtävlingar och börjat spela golf...)😜
Det löftet blev ju inte så långvarigt....Vi körde på i spåret, som inte var helt lätt eftersom hon letade efter harar att jaga så fort vi kom ut på ett fält ( appellen var ett h-e... 😱). Och eftersom hon var snygg också, så kunde hon ju bli Utställningschampion. Och Korad....
Efter ett par år dök så Felicia Fagerström upp på Chalmers Golfklubb, som en golfspelande junior och självklart fick hon gå ut och gå med Heaven. Ganska snart tyckte jag att dom ju kunde gå någon kurs ihop, så jag anmälde dom till agility och "the rest is history" när det gäller Felicia och agility👍
Heaven och Felicia blev drillade på vår tomt i lydnad och efter något år tävlade dom i KM på SBKs Göteborgsavdelning, där dom minsann gick och blev Klubbmästare!
Heaven bodde tillsammans med Yava periodvis hemma hos familjen Helena Fagerström och Magnus Fagerström, när jag bodde i USA. Där är hon också djupt saknad nu. 💕
Vid 10 års ålder pensionerade jag Heaven för 2:a gången....trodde jag... Men då träffade jag en gammal grönis ur uppfödningen som var 11 år och tävlade rallylydnad. Självklart glömde vi bort pensioneringen och gav oss på denna för oss helt nya sport och inom ett par år blev Heaven även rallylydnadsmästare!
Innan jag bestämde mig för att ta mig an Heaven hade vi inte haft hund på nästan 3 år - en anledning var att saknaden efter Winnie var stor och jag trodde aldrig att jag skulle kunna hitta en ny hund som kunde ta hennes plats. Men, det stod ganska snart klart att Heaven var var en "Soulmate" och jag är enormt tacksam och glad för att jag tog steget - Heaven gjorde att jag fick tillbaka mitt intresse för uppfödning och tävling igen.
Heaven hann ju bli mormor och generna vandrar vidare i fantastiska valpar och vi har själva fortfarande en levande bit av henne kvar hemma i form av Yava.
RIP Heaven - a heavenly dog
Noya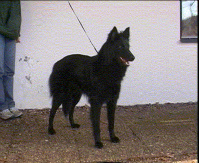 Noya (1997-04-03 -- 2010 -09) was bought back to the kennel due not meeting the criteria of the buyer. She was an excellent working dog, but due to my limited time during some years I needed to find a new home for her. She had a great life in the Skåne country side with Fia and her horses and family. She died in a severe seizure attack.
Winnie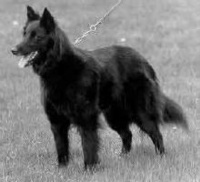 Winnie (Wirwelwinds Svarta-Winnielou) 1991-02-18 -- 2005-03-20
Mother, grand mother and grand grand mother of most groenendael puppies in Kennel Nightrunner's...
Words are not enough to describe how I feel about her - she is one in a life time dog...my memory of her is still alive.
I took the decision to let her sleep eternally during a tracheal surgery under which it was revealed that she suffered from a severe carcinoma. Besides this she was fresh and sound and happy to follow me on the golf course.
Her titles: SeUCH Korad SLCH